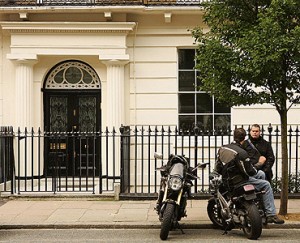 It's one of the world's most expensive housing markets, and its prices are continuing to grow at a rapid pace. Despite modest growth in home prices across the UK, homes in London saw their average sale price increase by 6.9 percent during the 12 months to June. The rest of England and Wales saw a modest 0.8 percent rise in prices.
London has long been an anomaly in the UK housing market, with greater London a bubble of high-priced residential housing. The average home in the capital is priced at £383,930, compared to a nationwide average of £162,621. The increase in prices is consistent across all of Greater London, not just the city's central neighbourhoods.
Despite the high overall pricing, some areas of London have experienced a greater level of growth than others. Exclusive areas such as Chelsea and Kensington have experienced an annual price rise of 9.5 percent every twelve months, with home prices reaching an average of £1.1 million.
Other neighbourhoods have also experienced rapid growth, with areas such as the borough of Wandsworth facing an 11.3 percent leap in pricing every year. The city has experienced such rapid and intense growth that many estate agents fear that London could 'out-price' many of its residents.
While growth in real estate prices has been steady around the UK, certain regions have fared better than others. Home prices increased by 2.9 percent on Wales over the last twelve months, while areas such as England's North-west and North-east dealt with a 3.8 percent decline in house prices over the last year.
Factors affecting the London residential real estate market include a relatively weak pound and the desirability of London real estate amongst foreign investors. Buyers based in the UK also benefited from a credit market that's more accessible than in past years.