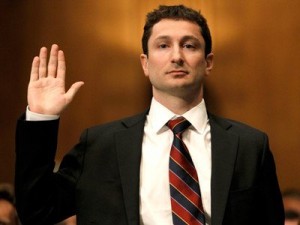 An infamous Goldman Sachs trader known as 'Fabulous Fab' will go on trial to face fraud charges related to the United States financial crisis. Fabrice Tourre, who was known as 'Fabulous Fab' due to his opulent lifestyle and outspoken nature, is one of the few faces of the financial crisis that pushed the United States into a recession.
Tourre is accused of intentionally misleading investors into buying bad investments that he personally knew would result in large losses. He is the first high-level banker to face trial for intentionally misleading investors since two Bear Sterns hedge fund managers, Matthew Tannin and Ralph Cioffi, were acquitted in 2009 for fraud.
The infamous trader gained his nickname after boasting in his emails that he would be 'the last man standing' when the financial crisis began. Tourre is one of the few traders to have documented his involvement in the fraudulent behaviour that was the cause of the financial crisis.
Tourre reportedly bragged to his girlfriend in emails sent from his company account that indicated his involvement in housing scams. 'Fabulous Fab' reportedly boasted to his girlfriend that he would survive while the company building would 'collapse anytime now,' leaving him as the only trader likely to survive the crisis.
E-mail evidence, primarily made up of self-congratulatory emails from Tourre to his friends and close industry contacts, forms that bulk of the case against the trader – a man supported by Goldman Sachs in his defence. Tourre denies any involvement in illegal financial activity and is fighting against the case with Goldman Sachs' backing.
The trader's trial will begin this week in Manhattan. Media attention is likely as the banker, known primarily for his self-congratulatory emails and loud personality, is one of the few high-level bank employees to face fraud charges for his involvement in the financial crisis.