In most cases, the news that the UK's inflation rate had dropped to 2.6% in June would be greeted with genuine enthusiasm. After all, this represented a decline of 0.3% since May, while it also marked the fourth consecutive month that fuel prices have fallen incrementally.
This was the first fall in the rate of inflation since October 2016, however, while the fact that remains that the cost of living remains disproportionately high to real wages in the UK.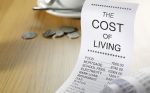 With this in mind, you may need to take a more proactive approach to boost your disposable income levels in the current climate. In this article, we will explore how you can do this and build towards a brighter financial future.
Start By Building Passive Income Streams
Historically, generations were taught to accrue long-term wealth by committing their money to savings. This is no longer an effective method, however, with interest rates perennially low and the savings ratios plunging to record levels.
Instead, it is far better to build passive income streams that can generate earnings alongside an existing wage without compromising your work-life balance too much. They key is to determine the best passive income method to suit any particular skills or knowledge that you may possess.
Those with knowledge of financial market trading may decide to invest in liquid assets such as currency, for example, which negate the burden of ownership and enable you to profit even in a depreciating market. It is also possible to automate trades and regulate order with stop-losses in the modern age, while you can seamlessly access and manage accounts through your smartphone.
For those with a passion for gaming, matched betting and practices such as slot gaming also offer opportunities to accrue income easily. Virtual slots can deliver certified return-to-player (RTP) rates of 97%, while you can also access bonus returns and identify the most lucrative promotional offers at outlets such as www.casinoreviews.co.uk. This can optimise the amount of free gameplay that you receive, boosting your potential profits as a result.
Reduce Regular Expenses Where Possible
The next step is to reduce your monthly cost base, but not in the way that you may initially think.
While many look to reduces their expenses by limiting big ticket purchases such as holidays, for example, this only delivers sporadic savings while also compromising the quality of your life. Conversely, reducing monthly expenses such as the cost of utilities and groceries delivers sustainable and quantifiable savings, leaving you with higher levels of disposable income each month.
You may want to start by switching energy providers, particularly with the so-called 'big six' providers having increased fuel and consumer costs incrementally over the course of the last year. This has caused providers such as ScottishPower and SSE to shed thousands of customers in recent times, with many having compared the market and sought out cheaper, independent suppliers. You can do the same, as you look to select the ideal tariffs to suit your usage and minimise everyday costs.
You may also want to reduce the amount that you spend on groceries, with online shopping arguably offering you an opportunity to achieve this objective. While you will have to pay a nominal delivery fee depending on the precise time slot that you book (there are peak and off-peak times with the latter noticeably cheaper), you can also shop more cautiously and constantly amend your basket in order to make savings, identify potential discounts and operate within a stringent budget.
Having awareness of potential deals can also help you to save money by stockpiling essential, non-perishable items at various times, triggering long-term savings as a result.
The Last Word
These simple steps, when applied in a focused and strategic manner, can help you to boost your income while also reducing everyday costs. This optimises your disposable income levels in a difficult climate, potentially laying the foundations for a brighter financial future.
This also underlines how thinking like a business-owner can help you to save money, as you look to reduce costs, increase income and ultimately build a greater resources over time.