If you own a period home, you may be faced with a significant conundrum when it comes to enhancing its appeal.
After all, the value of period properties tends to be determined by their unique structural features, which should ideally be maintained if you are to improve the bottom line sales price of your home. Not only this, but some older homes are Grade II listed, making it exceptionally difficult to complete cost-effective modifications without planning.
In this post, we will discuss some steps that will enable you to add significant value to your period property. These include:
Introduce Quintessential, Period Floor Tile Into Your Home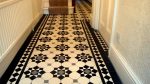 Period tiles were a mainstay of design and architecture during the Victorian era, while their iconic nature makes them ideal if you are to add value and make a positive first impression on potential buyers.
Unfortunately, the chances are that your properties original tiles are hidden away under additional layers of flooring, both in the porch and throughout the interior.
These tiles are easy to spot, however, usually boasting square and decorative patterns that provide sharp colour contrasts. We would therefore recommend stripping away your layers of flooring and looking out for such tiles, before restoring these to their former glory and creating a visually striking focal point for your period design.
Restore Your Sash Windows
While not all period properties have been created equal, there are some features that are more commonplace than others. Take sash windows, for example, which are iconic fittings that present a unique selling point to interested buyers.
They are also prone to deterioration and lack insulation qualities, however, so you may need to strike the difficult balance between retaining these windows and improving their functionality.
With sash window restoration from fortishooke.co.uk, however, it is possible to employ specialist contractors to achieve this objective. This will ensure that your sash windows are fully restored to their original standard, while retaining the same period aesthetic and improving energy efficiency.
This will require an upfront cost, but it is an investment that can deliver huge rewards!
Restore the Classic Period Front Door
We talked earlier about first impressions, and one of the best ways to engage buyers is to ensure that you have a period-style front door.
You may well find that this has been replaced through the years, but a quintessential wooden door will restore a sense of authenticity to the property while also add value to the structure.
Aim for a traditional wood design, which is firmly in keeping with period design style. If you already have a wooden period door that has experienced wear and tear, you should look to have this restored to its original condition and use this as a wow factor to engage visitors.